Welcome!
Dr. Venditti's research group has as a goal to develop and understand systems for the effective utilization of renewable plant resources to produce sustainable products, including polymeric materials and biofuels. He is also actively involved in paper science and technology research, with activity in paper recycling, tissue products, biodegradability research and in environmental life cycle analysis of bioproducts.  He has published approximately 200 peer-reviewed manuscripts and made an equal number of scientific presentations.
Click here to see a video profile of Dr. Venditti
Current ongoing research involves the conversion of starch and hemicelluloses into advanced particles and gels, use of hemicellulose for liquid biofuels, application of recycled paper fibers into tissue, separation of deformable tacky contaminants with pressure screens in paper recycling, generation of cellulose and other synthetic polymer microfiber particles during laundering, aquatic biodegradation of natural and synthetic paper and non-woven materials, extraction of chemicals from biomass, conversion of paper residues into ethanol, and the strength properties of recycled fibers in paper and tissue.  He is currently heading a multi-organization research project to understand the fate of microparticles from laundering in the environment.  He also is the principal investigator of a four year, $2.75 million United States Department of Agriculture program, entitled, Preparing Diverse and Rural Students and Teachers to Meet the Challenges of the Bioproducts and Bioenergy Industry.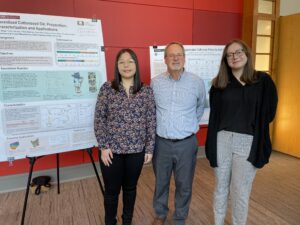 He is also active in analysis of emerging biofuel technologies using environmental life cycle analysis tools. In this pursuit, he is an active teacher and researcher in the area of environmental life cycle analysis.  Venditti has performed LCA research for the USDA, DOE, and CORRIM in the area of LCA of biofuels, biomaterials, and conventional products such as paper.  He has consulted for several companies in the area of environmental LCA and is an active LCA reviewer.
Venditti teaches Chemical Process Control, Unit Operations of Pulp and Paper, and Environmental Life Cycle Analysis at NCSU. He was named outstanding Academic Advisor for his department in 2002 and 2004. Venditti is the director and co-instructor of the Hands-on Workshop for Pulp and Paper Basics, co-sponsored by NCSU and Tappi.  This course has been conducted three times a year for the
past 20 years and is one of the highest rated courses at TAPPI.
He is a member of the Technical Association of the Pulp and Paper Industry, the American Chemical Society, the American Institute of Chemical Engineers, and the American Center for Life Cycle Assessment.
Venditti was awarded The Investigator of the Year Award by the AF&PA Containerboard Group Technical Division in 2001 for his research pertaining to novel methods to remove contaminants from recovered paper.  In 2002 he received the Wayne Carr Best Paper Award from the Fiber Recycling Committee and in 2007 co-authored the Tappi Journal outstanding research paper.  Venditti is on the International Advisory board of Progress in Paper Recycling.  In 2012 he was recognized as a TAPPI Fellow, in recognition of meritorious service to the Association and the industry.
From 2005-2010 he served on the Administrative Board of the Graduate School at NCSU, as the head of the College of Natural Resources Graduate Studies Committee and as the Director of Graduate Programs and head of the Forest Biomaterials Department Graduate Studies Committee.
In 2009 he was recognized with a Fulbright Senior Specialist in Environmental Science. He was hosted by the University of Kwazulu-Natal  and The Council for Scientific and Industrial Research (CSIR) in South Africa.  The purpose was to discuss technical information on paper technology and science to industry, academics and research groups in order to establish contacts and provide guidance for research efforts.  Stemming from this activity, Venditti was named an honorary faculty member of the Department of Chemical Engineering in the University of KwaZulu-Natal, South Africa. 
The Association for the Concerns of African American Graduate Students presented to Dr. Richard Venditti the ACAAGS Advocacy Award at the Twenty-Seventh Annual Awards Program, April 21, 2010. The award is presented to a director, department head, dean, or faculty member who best exemplifies positive activity towards the recruitment, retention, and graduation of African American graduate students. The awardee should best exemplify positive activity toward the recruitment, retention, and graduation of African American Graduate Students. It was noted that Dr. Venditti, in his role as Graduate Director, was instrumental in designing and leading a visitation program for students from Shaw University to the Forest Biomaterials Department, among other activities in support of African American graduate students. Venditti is also an honorary faculty member of the Department of Chemical Engineering in the University of KwaZulu-Natal, South Africa. He is shown here accepting the award at the ACAAGS annual awards banquet.
In the Spring 2011 semester, Dr. Venditti took a sabbatical assignment at Duke University in the Center for Global Change in the Nicholas School of the Environment. He performed research in the areas of environment, energy and environmental life cycle analysis.
He also spent an extended period of time teaching Environmental LCA as a Visiting Faculty member in 2017 at the  Polymer Chemistry and Engineering Department of the University Jean Monet, Saint Etienne, France.
He received a Ph.D. degree in Chemical Engineering in 1994 at Princeton University (Curing and Properties of Thermosetting Polymers, advised by Dr. John K. Gillham) and B.S. degrees in 1988 in Pulp and Paper Technology and in Chemical Engineering at North Carolina State University.
Contact Information: Dr. Richard A. Venditti, Professor, North Carolina State University, Department of Forest Biomaterials, Biltmore Hall Room 1204, Raleigh North Carolina, 27695-8005 Tel. 919 515 6185, email: richardv@ncsu.edu