Current Cooper Lab Members
---
Marcus Bailey
Marcus Bailey (She/Her) is pursuing her Masters of Science in Forestry with a concentation in Policy and Administration. She is a Logistical Coordinator TA for the Environmental First Year Program. She is working on the Eclipse Soundscape Project as a graphic designer. She got her Bachelor's of Science degree in Environment and Sustainability at Catawba College. Her previous work experience includes an internship with the City of Salisbury and Catawba's Center for the Environment.
---
Dr. Dani Lin Hunter (she/her) is a postdoctoral scholar. She has managed various participatory science projects including Crowd the Tap and the eclipse animal behavior project. Her research in the lab focuses on participation outcomes associated with engaging participants in these projects through facilitator organizations. She has also organized participatory science internships at both NC State and Shaw University. Dani also has a PhD in ecology from Colorado State University where she studied how scientists and practitioners communicate about and lead participatory science projects. She also loves going for walks with her family, a warm cup of tea, and exploring new recipes.
---
Kurt Naquin (they/them) is a PhD student in the Fisheries, Wildlife, and Conservation Biology Program. Their research interests include applying Indigenous science approaches to the participatory sciences, how the participatory sciences may influence environmental behavior, and other human dimensions of conservation, such as sense of place and perceptions of risk, especially as it relates to marginalized communities.
Kurt has years of experience as an environmental and climate justice communicator and narrative strategist, working primarily in the the Texas and Louisiana Gulf Coast with communities on the frontlines of the oil and gas industry and climate change. They also run an Indigenous youth language internship with the Houma Language Project, as a way to engage youth in language and culture reclamation and resist the impacts of climate change in Indigenous erasure.
---
Deja Perkins (she/her) is a PhD student in the Center for Geospatial Analytics program. Visit her website.
Deja's research focuses on inclusion in citizen science. She investigates racial and economic factors that influence the distribution of participant-generated environmental data, barriers to participation, and explores models of public engagement aimed at expanding the beneficiaries of scientific practices.
---
Lauren Pharr (she/her) is a PhD student in the Fish, Wildlife, and Conservation Biology program. She is co-supervised by Dr. Chris Moorman. Visit her website. She is also co-founder of Field Inclusive.
Lauren's dissertation research focuses on the potential links between climate change and increasing brood reduction in Red-cockaded Woodpecker populations. Lauren's Master's research in the Cooper lab focused on links between noise and light pollution and songbird survival. She obtained her undergraduate degree in Environmental Biology with a minor in Biology from Wingate University. Lauren's research at Wingate focused on studying changes in avian harmonics of the Chinese Blue-Breasted Quail (Coturnix chinensis). Lauren enjoys being in nature, loves animals, and her favorite movie of all time is "The Lion King."
---
 Haley Smith (she/her) is a PhD student in the Fisheries, Wildlife, and Conservation Biology program.
Haley's research focuses on how attributes of volunteer participants and third party managers relate to outcomes and impact of citizen science experiences. Haley earned her MS in Conservation Leadership from Colorado State University in 2019 after completing a capstone project developing a community science program for a local watershed restoration organization. Prior to that, Haley served as a full time AmeriCorps member for two years, leading community outreach and education initiatives for a land trust in Asheville, NC, and completed Duke University's Certificate in Nonprofit Management. When away from the computer, Haley can be found hiking, biking, paddling, or hammocking in nature with her rescue dogs.
---
Lab Alumni
---
Bradley Allf  (he/him) earned his PhD in Fisheries, Wildlife, and Conservation Biology in the Cooper lab. Visit his website. (Completed summer 2023; Currently post-doctoral researcher at NCSU).
Bradley's research centers around studying the outcomes of citizen science, specifically how project participation can effect positive changes in conservation, research, and public engagement in science. Before coming to NC State, Bradley worked at the NC Museum of Natural Sciences and as a freelance science writer. Bradley studied biology and creative writing at the University of North Carolina at Chapel Hill and edits science poetry for ILT Review. When he's not writing or researching, you are likely to find him climbing rocks or looking for salamanders.
---
Murry Burgess (she/her) earned her PhD in Fisheries, Wildlife, and Conservation Biology in the Cooper Lab. Visit her website. She is also co-founder of Field Inclusive. (Murry defended in summer 2023 and began as Assistant Professor at Mississippi State University in fall 2023).
Murry earned her B.S. in Wildlife, Fisheries, and Aquaculture from Mississippi State University. Her current research focuses on field experiments to understand the life history tradeoffs involved in how developing songbirds overcome the physiological stresses of artificial light at night. Her other research interests include animal behavior and conservation biology. Murry is a children's book author with a new series, Sparrow Learns, coming soon (with the first Sparrow Learns Birds). In her spare time, Murry enjoys reading, creative writing, bird watching, and her dog Loki.
---
Dr. Elizabeth Jones (she/her) was a postdoctoral research scholar in the Cooper lab. Visit her website. (Completed summer 2021; Currently postdoctoral researcher at NC Museum of Natural Sciences)
Elizabeth runs the National Science Foundation research project ("Establishing Norms of Data Ethics in Citizen Science" PI-Cooper). Elizabeth studied History and Philosophy at North Carolina State University, then earned her MA in History and Philosophy of Science at Florida State University and her PhD in Science and Technology Studies at University College London. Elizabeth is working on her first book, Ancient DNA: The History and Celebrity of a Science, under contract with Yale University Press.
---
Imani Bell (she/her) earned her Master's of Science in Fish, Wildlife, and Conservation Biology in the Cooper Lab on Crowd the Tap, an EPA-funded citizen science project to inventory water pipe materials across the country. For her thesis, Imani examined the risk of lead-in-tap-water in relation to race and economics, as well as how communities organize to address environmental risks. Imani received her Bachelors of Science degree in Environmental Sciences from the University of South Florida. Before coming to graduate school, Imani did field work studying rare butterflies.
---
Maria Sharova (she/her) received her M.S. in Fisheries, Wildlife, and Conservation Biology after defending her thesis "Next steps in shared management of citizen scientists: understanding project owner perspectives and volunteer connections to science" in 2020. Her research involved learning more about SciStarter participants and project owners to create a community of citizen science. Maria currently works for the Thriving Earth Exchange.
---
Brittany Carson (Carson) (she/her) received her M.S. in Fisheries, Wildlife, and Conservation Biology in 2019 after successfully defending her thesis, "Sense of place in urban neighborhoods and the perception of outdoor sounds." Her research focused on a citizen science project called Sound Around Town, which assesses the acoustic environment in urban and suburban areas relating to noise pollution and perceptions of sound and noise. Carson currently works for the Botanical Gardens in Atlanta.
---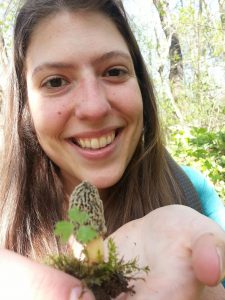 Suzanne Hartley (Suz) (she/her) received her master's degree in Fisheries, Wildlife and Conservation Biology in 2019 after defending her dissertation "Sparrow Swap: testing management strategies for House sparrows and exploring the use of their eggshells for monitoring heavy metal pollution." Her research focused on Sparrow Swap, a citizen science project aimed at helping bluebirders better manage invasive species and the potential to use invasive house sparrow eggs as bioindicators of environmental contaminants.
---
Dr. Lisa Lundgren (she/her) was a postdoctoral researcher in the Cooper Lab that studied Crowd the Tap and SciStarter. On these projects, Lisa researched how people interact within and learn about science in online citizen science environments. Lisa is currently a Postdoc at the University of Connecticut's Neag School of Education.
Dr. Lundgren is an assistant professor at the Utah State University. Visit her website.
---
Dr. Chris Hawn (they/them) was a postdoctoral researcher in 2015 in the Cooper lab. Then they were an assistant professor of Geography and Environmental Systems at the University of Maryland, Baltimore County. Dr. Hawn is currently co-director of the North Carolina Environmental Justice Network.
---
Charmaine Pedrozo (she/her) graduated from NC State in 2019 with an M.S. in Parks, Recreation and Tourism Management. She was co-advised by Caren Cooper and Lincoln Larson. Her thesis was titled "Candid Critters and Wildlife Conservation Behaviors: Exploring the Broader Impacts of Citizen Science Participation.
---
Preparing for kayaking on the Haw River
---
We spend a lot of time with wild bird eggs that we receive from citizen science volunteers across the US.
---
And having fun!
---