Graduate Students
Cohort starting Fall 2017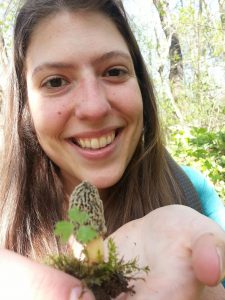 Suzanne Hartley (Suz) is pursuing a master's degree in Fisheries, Wildlife and Conservation. Her current research involves Sparrow Swap, a citizen science project aimed at helping bluebirders better manage invasive species and the potential to use invasive house sparrow eggs as bioindicators of environmental contaminants. Her interests are in ecology and behavioral ecology, and research will probably focus on natural and anthropogenic (contaminant) factors shaping characteristics of wild bird eggs.  Her previous research experiences includes studying food webs of juvenile salmon and aquatic insects in Alaska and the population dynamics of an invasive cranefly and entomopathogenic nematodes in New York State. When she's not handling stinky house sparrow eggs, Suzanne enjoys cooking, hiking, and experimenting with urban container gardening.
Brittany Carson (Carson) is a graduate student studying for an interdisciplinary masters in Fisheries, Wildlife, and Conservation Biology. She passionate about social and environmental equity and a recent graduate of North Carolina Central University where she first started doing environmental research pertaining to disparities in traditionally undeserved communities. Carson is currently working on a citizen science project titled Sound Around Town with National Park Service's Natural Sounds and Night Skies Division that aims to access the acoustic environment in urban and suburban areas relating to noise pollution and perceptions of soundscapes to potentially uncover patterns of disparities. She is also interested in NC State's public interest design program that addresses societal and environmental issues affecting the built environment, and participates in service learning projects during the year. She hopes to continue developing skills that will aid undeserved and oppressed communities and ecosystems. Outside of school, she is a studio assistant at the Durham Art Councils clay studio and enjoy creating pieces of art from dirt, gardening,writing, reading, music, and going see plays.
Charmaine Pedrozo is a master's student in NC State's Department of Parks, Recreation and Tourism Management. She recently graduated from the University of Florida with a B.S. in Wildlife Ecology and Conservation, and minors in Agricultural Communication and Botany. Her passion for animals started her career in conducting research related to wildlife. As an undergraduate student, she completed internship programs under the U.S. Fish and Wildlife Service in Cortland, New York and Everglades National Park in south Florida. Through these experiences, she eventually gained a passion for including humans in her research interests, and understanding their relationship with wildlife and the environment. After graduating, she spent her summer completing another internship program that took her in several national parks in the western United States, such as Yellowstone National Park and Mt. Rainier National Park. This program provided the opportunity for her to exercise her abilities in communicating science to the public. Charmaine's research interests include the human dimensions of wildlife and environmental education. Charmaine's hobbies include playing badminton or tennis, hiking, kayaking, dancing and volunteering. Other interests that she hopes to improve on includes photography, swimming, cooking and drawing. She also loves to learn new skills and try new activities.
My lab summer 2017 (photos by Lauren Nichols)
We spend a lot of time with wild bird eggs that we receive from citizen science volunteers across the United States…
and unpack…
and curate…
all behind a glass wall at the North Carolina Museum of Natural Sciences…
and on the computer…
and managing data…
and designing other citizen science projects…